The SSD market is moving ahead with new options at more accessible prices and with greater storage capacity. The next segment that they seek to conquer is that of portable units for the general public, where there are already several manufacturers such as Western Digital that seek to have presence and dominate this growing market.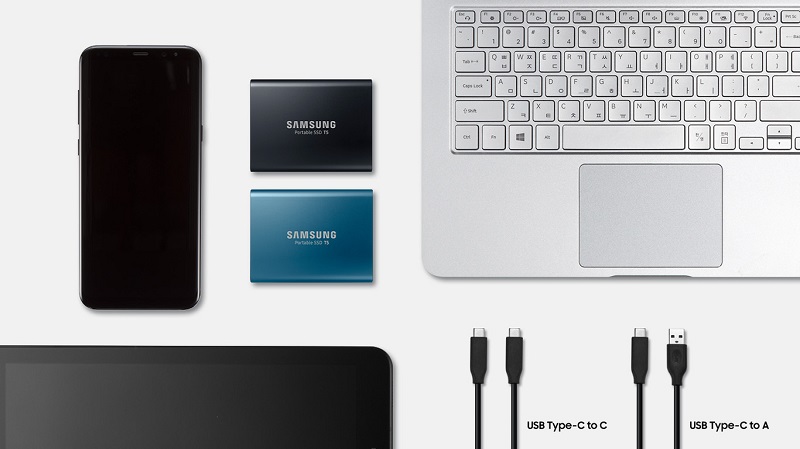 At the beginning of 2015, Samsung presented its options for the portable commercial market with its SS1 T1 units, which were offered as an attractive option for those seeking high capacity with the advantages of speed and security of an SSD. Then came the SS3 T3 and now it's time to present their new SS5 T5 units, where they give a jump in speed and capacity, reaching up to 2TB in a really small size.
Samsung SSD T5
Samsung's new T5 SSDs come in capacities of 250 and 500 GB in blue, and 1 and 2 TB in black. These T5 take advantage of the new memories V-NAND of the same Samsung with what it is possible to reach a maximum speed of 540 MB / s, both for writing and for reading, thus equaling the speed of their SATA SSD units, although they are still below the speeds of an M.2 unit.
You may also like to read: The race for the world's largest SSD has a new competitor: Lenovo 48TB
The SSD T5 has USB-C port on USB 3.1 Gen 2 interface but the good news is that two cables are included, one USB-C to USB-C and one USB-C to USB-A to provide compatibility with previous versions. It also comes with 256-bit AES encryption for those looking for more security.
It should be noted that these new SSDs are smaller than a unit of 2.5 inches, since they have dimensions very similar to those of a credit card, remaining in 57.3 x 74 mm with a thickness of just 10 mm and a weight of 51 grams. The unit comes wrapped in an aluminum housing with a resistant design that supports falls of up to 2 meters in height.
The prices of Samsung's new T5 SSDs are as follows …
250 GB – $129.99
500 GB – $199.99
1 TB – $409.99
2 TB – $799.99
Tags:
Samsung T5