We have to go back to 2014 to meet these ASUS GR8, are computers designed to play with them, or run demanding applications, but all in a small format, with dimensions as contained as a video game console, or little more.
See this type of equipment is normal within the family Republic of Gamers ASUS, but curiously the company is starting to mix the possibilities of different teams, as we saw with the recent desktop VivoPC X. What we present in this news is the ROG GR8 II.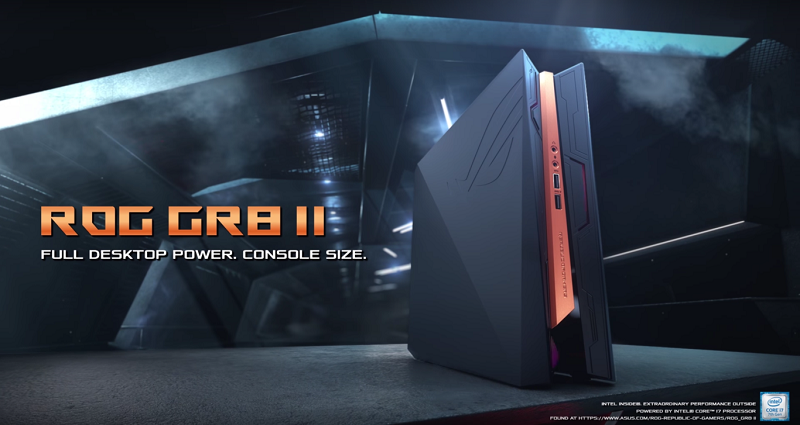 Like all the equipment that has been presented since CES 2017, Intel's seventh-generation processors – Kaby Lake – are there, it is also normal to see that the Nvidia option is the one chosen for the graphics part. This small desktop PC has a GTX 1060, like that of its cousin VivoPC X.
ASUS ensures that its new ROG has been developed with the intention of running Oculus Rift
The design is similar to that of its predecessor, with a thin tower shape and three clearly differentiated parts that seem to be joined by an orange in the central zone, all with a clear gaming aesthetic : lights – Aura Sync system – aggressive lines, logos and Windows that let you see the interior, etc.
The ROG GR8 II is somewhat larger, occupying about four liters of volume, weighing only four kilos. ASUS sells it as the smallest computer to run virtual reality with guarantees, designed with a complex and quiet cooling system (only 23dB at rest).
You may also like to read another article on improtecinc: Play MSI Backpack computer, first impressions
What else are we inside? As an option to choose between Core i7 and Core i5, up to 32GB RAM, or the aforementioned GeForce GTX 1060. For storage an SSD can be placed via M.2 PCIe, offering free another 2.5-inch bay. As for connectivity, there are USB TypeC ports, and their two HDMI and a DisplayPort lets us put up to three monitors.
There is still nothing on pricing or release dates for this ROG GR8 II.
Tags:
ASUS ROG GR8 II
,
Nvidia GTX 1060