When your smarpthone starts to go slower than usual, you will continually notice the little free space or some applications start to fail, you are running out of space on your phone. It is time for you to expand the capacity with the help of microSD memories.
No space on the phone or slows down: Try with microSD cards
If your smartphone has microSD card slot or you plan to buy one of the new models that have it, note the differences between cards : capacity, type of card or keys to understand speed figures.
With microSD memory cards, in addition to being able to store multimedia content or even applications (depending on the smarpthone and operating system used), new versions of Android support that card is used as internal memory in a simpler way.
We have selected for you what we consider today the 7 best microSD cards whether you are looking for the maximum capacity, the cheapest microSD or the fastest.
Types of microSD memory cards
Although in general we refer to memory cards as SD to dry, the reality is that three main types coexist in the market: SD, SDHC and SDXC. The differences between them affect only the maximum capacity that can reach each of them, so, depending on the capacity we want, we must choose one type or another.
The type of memory card is always clearly indicated on each model. According to the original specification, those that are of type SD can have a maximum capacity of 2 GB, although models can already be found that surpass that number. The high capacity, called SDHC, can be up to 32 GB while the SDXC are capable of up to 2 TB.
The other unknown to clear to choose the capacity of a microSD card for our smartphones is the maximum that accepts each model. If your smartphone supports cards, the phone specification specifies which card model is supported.
Speed ​​of cards: Classes and UHS classification
Once we have clear the maximum capacity of card that theoretically admits our smarpthone, as well as the one we want to acquire according to our needs and base memory of the smarpthone that we have, it touches to choose the speed of the card, which is the second element to consider of basic form.
On a memory card we will always have the call class or Speed ​​Class. This number, which is usually surrounded, marks us the minimum speed of sustained writing that guarantees us that type of card. It is measured in MB / s and this table is a summary of the current ones …
| | |
| --- | --- |
| | MINIMUM SPEED |
| CLASS 2 | 2 MB / s |
| CLASS 4 | 4 MB / s |
| CLASS 6 | 6 MB / s |
| CLASS 8 | 8 MB / s |
| CLASS 10 | 10 MB / s |
Some card model also includes in its labeling a figure of speed that in that case corresponds to the maximum speed of writing and reading that is able to reach said card. The usual thing is that these measures, especially the maximum ones, are spikes of speed punctual and not of sustained form. They are also expressed in MB / s and their maximum speed for the type of bus they use is 25 MB / s.
You may also like to read another article on improtecinc: The race for the world's largest SSD has a new competitor: Lenovo 48TB
With the arrival of SDHC and SDXC cards, the SD Association introduced a new class that takes advantage of the new bus of this type of cards: UHS Speed ​​Class. With it are introduced in the tiny cards a new reference (an I that we can see along with the type of card) that right now can be:
UHS-I Class 1 (U1): Minimum speed of 10 MB / s
UHS-I Class 3 (U3): Minimum speed of 30 MB / s
In these specifications, the theoretical maximum speeds are 50 and 104 MB / s respectively, but recently that UHS has left on the market new UHS-II Class 3 cards, which are prepared to reach transfer speeds up to 312 MB / s.
This new reference (UHS) is maintained along with the original Speed ​​Class. For this reason, if our smartphone supports a certain capacity but not the UHS bus, the reference speed should be searched in the Speed ​​Class number. This is the case of Class 10 UHS-I cards: if our equipment does not support the new bus, the minimum reference speed is marked by class 10, i.e. 10 MB / s.
Looking at the speed of a microSD card for a smartphone is key to having a proper experience. Recommended in new smartphones at least a Class 10, but in case we go to work with 4K video, the best option would be to already have models with the UHS-I bus, which is compatible with most current smarpthones.
In a microSD card for smarpthone is especially important the speed of writing unless that card we will use mainly to read multimedia content and play it on the screen of the smartphone.
New specifications for video and applications
MicroSD cards are no longer a complement to smartphones and have come to be considered by many users as one more element of their terminal. It is key and necessary if we want to make 4K video recordings or install and run applications directly from them, something that is already possible with the latest versions of Android. The SD Card Association has recently expanded specifications with two more variables.
Video Speed ​​Class
Represented in the cards with the symbols V6 to V90, it indicates the appropriateness of each card for video recording, mainly 4K, 8K or in 360 degrees, besides allowing the simultaneous recording of several files. Speeds range from 6 MB / s to 90 MB / s of V90, suitable for 8K video.
Application Performance Class
Already in specification 5.1, the microSD cards debuted the so-called APC, a new class designed to indicate the appropriateness of a card to store application data or the applications themselves on compatible Android smartphones. We are already going for the APC 2, indicated on the cards as A2, which guarantees fast and easy sequential read and write speeds for running applications.
The best microSD cards on the market
With the specifications and different indications and logos of the cards already perfectly clear, we have made a selection of the best microSD cards we can buy for our smarpthone in this first quarter of 2017, with affordable models, with excellent price-performance ratio, speed or capacity. Depending on what you are looking for you will have to choose one model or another.
Samsung EVO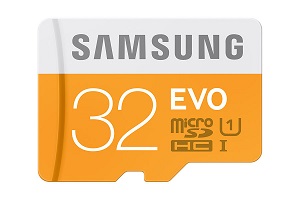 | | | | |
| --- | --- | --- | --- |
| CAPACITY | 32GB | CLASS | UHS-I U1 |
| MAX SPEED | 48 MB / s | PRICE | 13 dollars |
SanDisk Extreme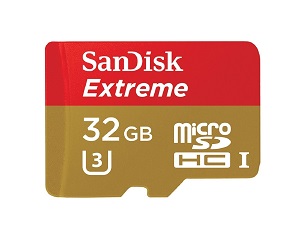 | | | | |
| --- | --- | --- | --- |
| CAPACITY | 32GB | CLASS | UHS-I U3 |
| MAX SPEED | 90 MB / s | PRICE | 17 dollars |
Lexar High Performance
| | | | |
| --- | --- | --- | --- |
| CAPACITY | 64GB | CLASS | UHS-I U1 |
| MAX SPEED | 95 MB / s | PRICE | 25 dollars |
SanDisk Ultra
| | | | |
| --- | --- | --- | --- |
| CAPACITY | 128 GB | CLASS | UHS-I U1 |
| MAX SPEED ​​R / W | 90/40 MB / s | PRICE | 45 dollars |
Kingston microSD
| | | | |
| --- | --- | --- | --- |
| CAPACITY | 32GB | CLASS | UHS-I U1 |
| MAX SPEED ​​R / W | 45/10 MB / s | PRICE | 13 dollars |
SanDisk Extreme A1
| | | | |
| --- | --- | --- | --- |
| CAPACITY | 256GB | CLASS | UHS-I A1 |
| MAX SPEED ​​R / W | 100/90 MB / s | PRICE | 200 dollars |
Toshiba Exceria Pro
| | | | |
| --- | --- | --- | --- |
| CAPACITY | 64GB | CLASS | UHS-II U3 |
| MAX SPEED ​​R / W | 270/250 MB / s | PRICE | 91 dollars |
Tags:
microSD