HP has just introduced its new high-end laptops, the Specter 13 and Specter 13 X360. This is the new members of its Specter range, which best cares for its finishes and design, and are two brothers who want to stand out for their low weight, their few frames and the integration of Intel i5 and i7 processors of eighth generation.
In both cases we find screens with resolutions that can be FullHD or 4K, and memory configurations that can amount to 16 GB of RAM or 1 TB of storage D. All with an attractive design and batteries that in both cases They promise that they will exceed 10 hours.
HP Specter 13: Light, thin and almost without frames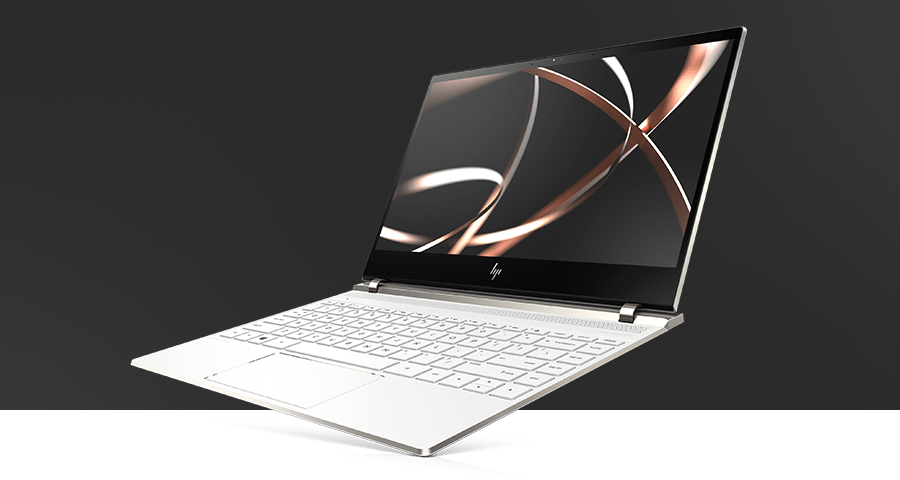 The new Specter 13 is a 13.3-inch touch screen notebook, which can have 4K resolutions, which will have 332 PPI and a brightness of 340 nits, or a FullHD at 1080p. In both cases it will be protected with Corning Gorilla Glass technology to avoid scratches, something useful considering that it is tactile.
Another feature that HP most boasts is its thickness of 10.4 millimeters, which makes it according to the company in the thinnest touch screen notebook in the market. Its weight is only 1.11 kilograms, which is also good news for lovers of lightweight notebooks.
Inside, an Intel Core i5 / e i7 Quad Core Series 8-generation Intel Core UHD Graphics 620 processors and various memory configurations pulse. On the one hand we can put a SSD disk from 256 GB to 1 TB, while on the other the RAM can be from 8 to 16 gigs.
One of the aspects that stand out is its commitment to reduce to the maximum the frames of its screen, which are 5.3 millimeters in the top and 9.7 millimeters in the sides. The highlight is that this reduction has not affected the placement of your webcam with a field of view angle of 88 degrees, which is still in the top center of the screen.
The HP Specter 13 also features Bang & Olufsen loudspeakers, a 15% larger touchpad than previous models and a keyboard that covers the entire surface of the lower cover. It will also include a 3.5 mm audio port, WiFi 802.11, Bluetooth, a USB 3.1 type A, and two Thunderbolt ports or a USB 3.1 type C, as well as a battery that promises 11.6 hours of autonomy and a fast charge that in half an hour can load 50%.
You may also like to read: HP EliteBook x360, a crashworthy convertible
HP Specter 13 X360, same features but convertible
The Specter 13 x360 is a hybrid version of the Specter 13, and its main difference is that it has a hinge that allows you to rotate the screen 360 degrees, so that besides laptop we can also use it as a tablet thanks to its touch screen.
Otherwise, inside you will find almost the same, as some Intel i5 or i7 series U and eighth generation processors and the same memory configurations, with SSD hard disk up to 1 TB and a RAM that can go up to 16 GB.
It will equip a 13.3-inch IPS touch screen that can again have FullHD resolution of 1920×1080 or 4K resolution at 3840×2160. In both cases it will be protected with Corning Gorilla Glass NBT and will imitate the strategy of having the thinnest frames possible. Of course, its thickness goes up to 13.6 millimeters and its weight at 1.26 kg.
Its battery promises a capacity of up to 16.75 hours, and we will find a TrueVision HD infrared webcam with dual integrated microphone and support for Windows Hello, which will be complemented by a fingerprint reader. As for the connections, we came across a USB 3.1 type A, two Thunderbolt 3 replaceable by a USB type C, and a microSD card reader.
HP Specter 13 and HP Specter 13 X360, price and availability
The HP Specter 13 and Specter X360 already in market, and its price will depend on the chosen configuration. On the one hand, the Specter 13 will have starting prices of between $1299 in its cheapest version up to the $1399 of the model with more capacity. Meanwhile, the Specter 13 X360 will start at $1149 and can go up to $1599 depending on the configuration.
Tags:
HP Specter 13
,
HP Specter 13 X360