It was in November 2014 when Corning showed that so far was his biggest innovation, a crystal able to withstand drops of up to one meter but without increasing the weight of the device or loss of visibility that was Gorilla Glass 4 is present in 80% of mobile devices in the world. But the time has come to forget all that, since Gorilla Glass 5 is here.
They have taken almost two years for Corning could develop a substantial improvement in its famous Gorilla Glass, which has been placed in the taste of manufacturers due to their benefits coverage screens, and now seek to continue with that presenting the fifth generation with new and attractive properties.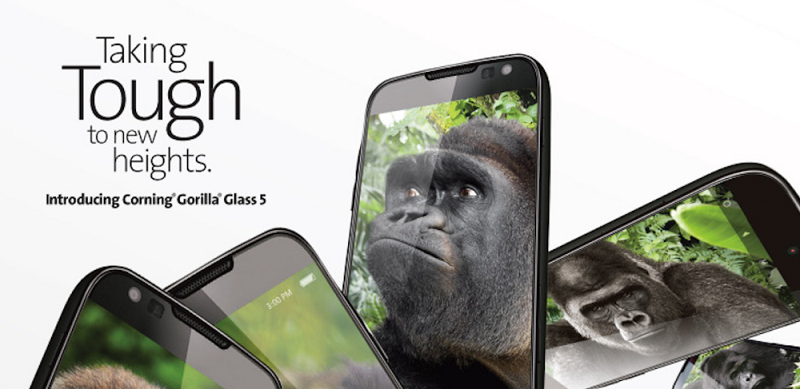 The best protection for screens today
The new Gorilla Glass 5 is a chemically reinforced glass, which seeks to improve the lives of smartphones and other mobile devices to fall on rough surfaces at a considerable height, the previous generation offered a degree of protection in up to a meter high, but on flat surfaces.
For this new generation the level of protection from falls increases to 1.6 meters high , since according to studies Corning, 85% of smartphone users have thrown at least once a year, and 66% of these falls from a height have been found between waist and shoulder, something given to a greater extent due to increased selfies.
You may also like to read another article on improtecinc: Make copies mobile photos in ten seconds? Look how does the new Fuji Instax
Gorilla Glass 5 doubles its strength from the previous version and has only 0.6 millimeters thick, which makes the weight and visibility are maintained and do not affect the performance of the screens.
Note that the fall protection is guaranteed up to 80% provided it does not exceed 1.6 meters, but this may be on rough, sharp surfaces and even if the device is dropped on one of its corners.
It is expected that the new Gorilla Glass 5 hit the market in the coming months and reach exceed the amount of 80%, which left his predecessor, for existing agreements with HTC, Samsung, LG, Lenovo, Motorola, HP and Asus.
Tags:
Gorilla Glass 5
,
smartphone